Over the last few years, celebrating Spring Racing Carnival has evolved – and while previously it was very much about being trackside, these days it's more about enjoying a fabulous lunch, getting dressed up, and enjoying an afternoon with your friends.
Luckily for us, long lunches is something Adelaide does particularly well, and there's a stack of amazing venues putting on some divine food and drink packages, so you can take the afternoon off, and kick up your heels!
Get ready to head off to the races right by the beach for this year's Melbourne Cup.
The Maylands Hotel Bar + Kitchen
Frock up, rock up and drink in the fresh spring air, with its recently refurbished sunlit lower dining and upper lounge with bi-fold windows letting the outside in, join The Maylands Hotel for their long Melbourne Cup luncheon from 12 noon to celebrate the race that stops the nation.
Innovative and mostly locally sourced produce, at $59 per head the long lunch includes a shared antipasto starter, a choice of four mains and three delicious desserts. Drink specials, sweepstakes and live broadcast on the big screens will be highlighted…guaranteed wonderful food and good times with the company you bring.  
Check out the menu and book here.
SkyCity – Sean's Kitchen and The District
Presented by Channel 7 weather presenter, Amelia Mulchay, Sean's Kitchen Melbourne Cup lunch will put on three courses of race winning dishes with a complimentary cocktail on arrival to get you in the mood.
Not only will Amelia be hosting the event, she will also be the judge for the best-dressed competition, and you'll want to dress to impress with winners to receive prizes including a night stay at Eos by SkyCity and a Sean's Kitchen Gift Voucher!
Meanwhile, sibling venue The District will host bottomless food and drinks at their Lexington Hill Cocktail Club for $129. You'll receive a free beer on entry as well as free sweepstakes and access to TAB terminals.
Host John Casey will be there to dissect each race and provide his expert tips to help find a winner!
Ticket and booking info for Sean's Kitchen here
Ticket and booking info for The District here.
Jodi Lee Foundation x Fishbank Melbourne Cup Lunch
This year, the city's Fishbank will collaborate with the Jodi Lee Foundation to present an intimate Melbourne Cup fundraising lunch.
A portion of the proceeds from this event will go to supporting the Jodi Lee Foundation's work in bowel cancer prevention and early detection.
At $180 per head, guests will receive a three-course menu and a three-hour drinks package with Taittinger Champagne on arrival. Sweeps and raffles will be available to purchase on the day
Booking and ticket info here

Penfolds at Magill Estate
Giddy up lovers of the Spring Racing carnival – Join Penfolds at their stunning Magill Estate property for a day at the races like never before!
For the first time, Derby Day and Melbourne Cup will be celebrated at the home of Penfolds to mark their partnership with the Victoria Racing Club as the new Victoria Derby Day partner, making Penfolds the third naming rights sponsor in its illustrious 166-year-history.
Upon entry, guests will be welcomed with a glass of the newly released Thiénot x Penfolds Champagne Brut Rosé and enjoy a four-course lunch created by head chef Scott Huggins, paired with wines from The Australia Collection 2021. The events will also feature a live race-day broadcast from Flemington, live music and fashion on the field activities. Tickets cost $175.
Ticket and booking information can be found here
Coal Cellar + Grill
Celebrate the race that stops the nation at Hilton Adelaide's Coal Cellar + Grill. From 12-3pm, they'll be serving up a three-course lunch, with a glass of Veuve Clicquot on arrival for $129 per person.
With big screens, giveaways and an after-party look forward to, this will be the place to celebrate your Melbourne Cup winnings!
Booking and ticket info here
The Walker's Arms Hotel
The Walkers Arms Events Centre will be hosting a Melbourne Cup Luncheon on the big day. So gather your filly's and colt's for a Two-Course Set Menu with a flute of Wicks Estate Pamela Sparkling on arrival for just $59pp.
The day will be a fun-filled combination of great food, drinks, sweeps, mystery bets and prizes for best dressed.
Booking and ticket info here
Marina Pier
Get ready to head off to the races right by the beach for this year's Melbourne Cup!
Set to a backdrop of glistening water views and a floral photo installation to take snaps in front of, it's time to dress up for a fun day of delicious food, good wine, and the thrill of the big race! An array of venues will be hosting daytime soirees to celebrate the race that stops the nation, from Oyster Bar to Ellenika.
We've compiled a guide to all the exciting events that its restaurants will host.
Read our guide to Melbourne Cup at Marina Pier here.
Vardon Avenue Melbourne Cup Street Party
One of the highlights of the year in the East End, is the Melbourne Cup Vardon Avenue event, which brings not only a great street party and lunch to the East End, but plenty of music, fashion and entertainment, while always supporting a great cause.
This year the event is helping to raise funds for Prostate Cancer. Enjoy a 3 course sit down shared menu curated by Josh Lansley, Mothervine & Lemongrass. You will also enjoy 4.5 hours of premium beverages including Pol Roger, Yalumba, & Deviation Road.
Ticket and booking info can be found here.
Mayfair Hotel
Enjoy the vibrancy of the Melbourne Cup atop the city at HENNESSY Rooftop Bar! From 12:00pm to 3:00pm, guests will be treated to a three-hour premium beverage package, delactable roving canapés, a live seafood station and scrumptus sweets for all race-attending sweet tooths!
Be entertained by cup sweepstakes, fashion awards, live acoustic and DJ music. HENNESSY Rooftop Bar will open to the public after 3:00pm for continued post-race celebrations.
Tickets are $199, buy yours here.
The Lion Hotel
Race down to the The Lion Hotel with your colleagues, family and friends and enjoy a fantastic celebration for the Melbourne Cup races. After a sell-out 2020 event there are three options for punters to pick from!
For $180 relax in the Lions restaurant with a three-hour food and drinks package and glass of Bollinger on arrival. Indulge in lobster buns, oysters, or waygu steak as you try your luck on the races.
The Jerningham Room will also transform into a race day party, with a three-hour food and drinks package for $130. For a more relaxed vibe, head to The Lions bistro and enjoy a three-course shared food package and four drink tickets to use on bubbles like the Lane Lois Blanc de Blanc for $95.
With tickets flying out the door, tickets only remain to the Lion Hotels bistro package.
To book, head to The Lion Hotel website
The Moseley Bar and Kitchen
For all you ocean dwellers, the Moseley has the perfect Melbourne Cup soiree for you. The iconic kitchen and bar is hosting a charity lunch on race day, with a three-course lunch, and a glass of G.H Mumm champagne on arrival for $99 per person. Adelaide's own Andrew 'Cosi' Costello will also be hosting the luncheon as sweeps and prizes for best dressed are also on offer. But, if a spread with local produce and ocean views weren't tempting enough, part proceeds of the event will go to Catherine House.
The bay-side bar and kitchen is also putting on a party upstairs for cup-goers, with a two-hour drink package and main meal for $65 per person. For the afters, DJs will be playing the decks from 5pm.
Melbourne Cup at The Moseley will be held at 11 Moseley Square, Glenelg. To book, click here.
National Wine Centre
Little Heroes Foundation is hosting a Melbourne Cup luncheon at the National Wine Centre on North Terrace. Starting from 11:30 am on Tuesday 3rd November, this will include a 3 course lunch and 4 hour drink package in Hickinbotham Hall. Lifted, cathedral-like architecture, state-of-the-art audio visual capabilities and a wealth of natural light, this jarred-floored space offers a natural feel, with rammed earth walls and wooden fittings.
Enjoy race coverage on the big function screens along with bookie service, auction items, best dressed prizes and even an exclusive after party – full royal style.
Their wine sponsor for this year is Bird in Hand Winery
Book tickets for the event here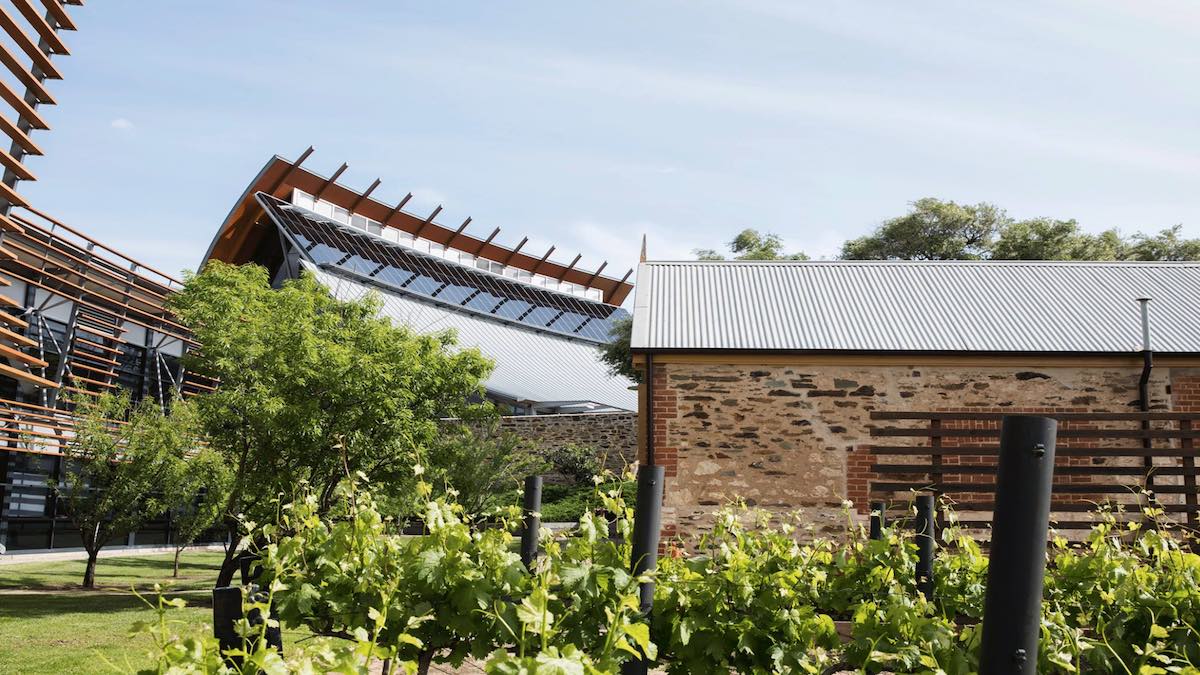 Morphettville Racecourse
Our very own Adelaidean racecourse at will be featuring a televised view of Australia's most famous annual Thoroughbred horse race along with live racing action at Morphettville itself. Double the bets, double the fun. There's a whole host of events going down at the racecourse this November 2, from premium a sit-down degustation at Morphetville's Restaurant 1873 to White Claw premium party on the green.
You'll have a fabulous experience up at the racecourse with great views of all the action. Packages start at $170, which will grant you entry into the racecourse, each four-hour beverage package, food trucks and betting facilities. General admission to Morphettville retail at $50.
If you're a race lover or even if you've never actually attended one before, this is a must-go-to. It's a powerhouse of energy, passion, booze, food, crowds and high spirits.
Book tickets here
Koomo Restaurant
Enjoy the thrilling Melbourne Cup within the stunning Koomo restaurant, as you wine and dine to celebrate the famed races. Indulge in a three-course shared food and wine package as you are entertained by Adelaide's acoustic wonders All About Her.With sweepstakes and prizes for the best dressed, Koomo's Melbourne Cup lunch is set to be one of glamour, luxury and race day excitement. Tickets are priced at $150 per person.
Looking for more? Head to Luna10 Bar to celebrate the success of the race after the thrill comes to a close.
Booking and ticket info here.
Melbourne Cup with White Marquee and Out in the Paddock
The event experts at Out in The Paddock have teamed up with White Marquee to bring Adelaide a Melbourne Cup event like no other, with a stunning outdoor celebration in Rymill Park/Murlawirrapurka.
Overlooking the lush green surrounds of the city parklands, OITP's event will be an afternoon filled with luxury and thrilling fun. Relax in the stunningly designed Soho Arc as you indulge in a ten-course cocktail degustation menu and four-hour drinks including French champagne, local wine and cocktails. Enjoy a fashion show and live entertainment or take a punt on betting facilities all within a beautiful setting.
Tickets are priced at $370, with the fun kicking off at 11:30am.
Buy your tickets here.
The Highway
The party is on at The Highway, with the iconic Adelaide pub hosting a glittery Melbourne Cup party on its deck this November. Witness the race that stops the nation live on the big screen and celebrate The Highway way. Tickets to the exciting event cost $110 and include six drink vouchers, valid on beer, wine, bubbles and base spirits, and graze your way through a variety of nibbles on the day.
Try your luck on the races with The Highways TAB facilities or jam out to live acoustic music in the afternoon. Kick on after the fun comes to a close with The Highway's after-race party on the deck – the best in town!
Booking info and tickets here.
La Boca Bar and Grill
La Boca Bar and Grill is bringing all things glamour and style to this year's race that stops that nation, hosting a luxurious Melbourne Cup Luncheon in the city. Watch the thoroughbred horses thrilling race on La Boca's big screen, with a fabulous food and drinks package for guests set to take the exciting event to the next level. Indulge in a bottle of sparkling wine and graze on sharing platters for $55 (minimum two people per booking).
To book, contact La Boca directly via 08 8461 0860 or [email protected].
Rob Roy Hotel
This city pub on Halifax Street will offer a much more laid back environment for all those looking for an event more on the casual side. Rob Roy Hotel's Melbourne Cup event will start at 12 pm for a 4-hour all-you-can-eat and drink package priced at just $100. Put on your hats, bow ties, horse race outfits and come along for a great afternoon of live music and horses (some fast, some slow) in a cozy, Victorian-era venue.
Booking and ticket info here
Oceanique
Experience spectacular panoramic coastal views whilst enjoying fine dining premium beverages and the race that stops the Nation! Port Adelaide Football Club Great Warren Tredrea will lead guests on Tuesday, November 3 through a day of racing entertainment fashion sweeps and fundraising.
Tickets are priced at $120 and include a 3-course meal a premium beverage package from 11:30 am access to a bookie and of course big screen race action.
All proceeds from this event will support the Sammy D Foundation to provide education and mentoring support to young people in South Australia.
The Unley
Grab your best mates and head to The Unley this Melbourne Cup to view the race that stops the nation! Enjoy a lunch at the iconic pub and partake in giveaways, sweeps and try your luck on the races.
The Unley's extensive à la carte menu will be available for you to grab a bite to eat before the race, with specials available on the day. To bring the glamourous vibes of the show-stopping event, order a bottle of Mumm Chapagne, or indulge in the pubs all day happy hour, with $10 off bottles of wine.
The lunch is free to attend, but reservations are limited, so book now to secure your spot.
Arkaba Hotel
The Arkaba's concocting something different this year for Melbourne Cup in the Top Room.
Join them for a whimsical time with Hendrick's Gin. Hendrick's is a unique gin created from eleven fine botanicals with marvellous infusions of rose and cucumber. They'll will be bringing the spirit of Hendrick's to you – think magical creations, sophisticated settings, royal roses and odd delights, with the addition of Hentley Farm wines from the Barossa. Jarrod Walsh will be looking after you for the day, with his charming wit and extensive sports knowledge.
DJ Justice will be bringing the vibes in-between the races. And as always, we they'll be proudly supporting Variety Moto Run with sweeps, auctions for marvellous prizes, silent Calcutta auction and part proceeds donated to the charity. You won't miss any of the action with three 100 inch screens, TAB facilities and live updates.
Tickets $135 per person, grab yours here.
Ladies Melbourne Cup Luncheon for Variety Muscle Car Run
This one is for the ladies! Head down to Royston Park's @313 and enjoy a fun-filled celebration for the race that stops the nation while raising money for the Variety Aussie Muscle Car Run.
Indulge in a four-course seafood extravaganza lunch and enjoy perfectly paired tipples of wine for this amazing charity event. Famed Adelaide Japanese Chef, Hein Nguyen will be preparing the lunch, taking his skills from the Shiki restaurant and serving them up for guests at this fabulous Melbourne Cup event.
Sponsored by venue @313 and MTS Accountants tickets cost $153, you can buy them here.
Think we've missed one? Email [email protected] to let us know
[adrotate banner="159"]