Brunch. It's that little time after breakfast but before lunch when all rules go out the window. Sure you get your regular eggs on toast but if you fancy something elaborate, opt for waffles, fried chicken and a mimosa or two and no one will bat an eye lid.
Adelaide's brunch game has really stepped up in the past few years and we know how overwhelming making a decision on where to go can be so we've narrowed down Adelaide's best spots to add to your list.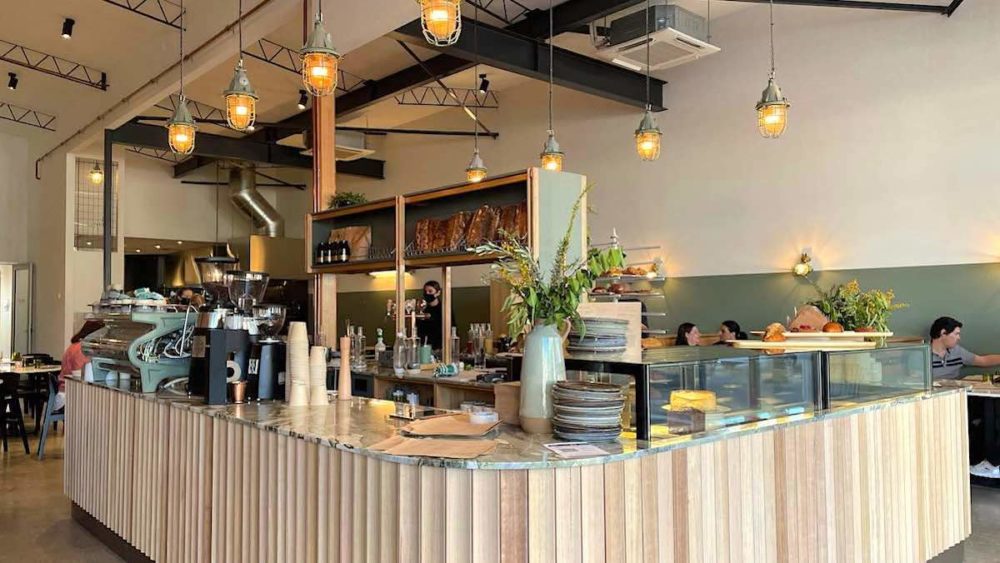 After purchasing a 30-acre farm in the Hills, the Fisher couple had a clear vision for their next venue: to create a casual, family-friendly brunch destination where products grown and sourced on their farm in Ashton would be lovingly created into mouth-watering dishes for their customers, taking the journey from farm to plate in one day.
30 Acres has curated an incredible seasonal menu, with highlights including a wood-oven cooked chicken served with wilted kale, and a green olive and lemon sauce and a breakfast showstopper of pork and fennel coil sausage accompanied with beans and hash browns.
233 The Parade, Norwood
Coffee brewing and alcohol flowing, Bloom Cafe ticks all the boxes from a long brunch. Go for a glammed up bacon and egg roll on their house brioche bun with smokey bacon and duck egg, or the lentil dahl, eggs, yogurt and damper.
Can't decide? Just say "feed me" and you'll be served the favs and the best across a number of courses. If you ever needed a reason to throw a sickie on a Friday, Bloom Cafe does a bottomless brunch with a two course set menu and bottomless bellinis (or tap beer).
38 Winwood Street, Thebarton
The café, once a hidden gem for premium coffee, is now well known for its aesthetically pleasing dishes that pop with vibrancy, a unique seasonal menu with a Persian twist, and a deep expression of culture through food art.
The Coffee Institute not only succeeds in making a great cup of coffee, but also provides deliciously affordable meals. Along with this, a major premise of the café is sustainability through the simplest of practices, including the use of SA based produce and recycling coffee grounds.
96 Walkerville Terrace, Walkerville SA
Who knew brekky could be so goddamn pretty? The waffles here are to diiiiiiie for (and it's probably impossible to not take the perfect Insta food shot of them). You can totally get a healthy choice here too or even build your own brekky… but with Persian fairy floss topped waffles, why would you even bother?
160 Fullarton Rd, Rose Park.
If you've ever been torn between the choice of a sweet or savoury breakfast, or gazed enviously at your brunch-buddy's eggs benedict after you opted for a breakfast bagel, Commitment Issues will be solving all your morning mealtime woes.
Commitment Issues serves a plethora of funky food, giving guests the option to sample a whole heap of tasty brunch options from their modern Australian menu, with influences from Italian, Japanese and Middle Eastern cuisines.
210 Greenhill Road, Eastwood
If you're in need of a spot of crack, look no further than this contemporary cafe and speciality coffee roasters established in a renovated former bank building, transformed into a bright Scandinavian inspired cafe with an in-house roasters on the Mezzanine level. Be sure to try their Crispy Duck Lasagne, complimented by spinach, creamy white sauce and pangrattato.
13 Franklin Street, Adelaide
In an old display home suspended over the glorious Port River you can grab your brunch and spot an inner-city dolphin. Where else in the world can you say that? Their dishes are always beautifully presented—but more importantly, taste fantastic.
The Annex via Mundy St, Port Adelaide
This iconic destination on the water is a hotspot in Henley and has some of the best views of the water. Joe's is more than just a Henley institution, it is a part of the community and beach. Enjoy a great breakfast, lunch and dinner and yes, they are very dog-friendly
Corner of S St and The Esplanade, Henley Beach
Brunch spot by day and Japanese bar by night, Lenox Avenue seeks to spice up Blackwood's dining scene with their Asian fusion eats and music.
For breakfast and lunch, Lenox Avenue serves up the likes of smashed avocado with poached eggs, Asian greens, haloumi, chilli, garlic, puffed rice, and golden sourdough; Korean fried chicken burger with bacon, wombok slaw, sweet pickled onion, gochuyung kewpie, cheese and fries; a Vietnamese roll with pickles vegetables and your choice of protein; and the ever-popular rice and greens bowl with shallots, rice, chilli, Asian greens, and an option of Asian fusion proteins.
They also have sandwiches, a kids menu and, like any café, a stacked coffee, tea, and juice selection.
Shop 9, 10-12 Coromandel Parade, Blackwood
Earlier this year, Magill Estate Kitchen (MEK) launched a new brunch offering! From breakfast staples to more adventurous combinations, the menu showcases the technique, textures and flavours of celebrated Director and Chef, Scott Huggins.
Brunch at MEK presents an opportunity to experience the stunning Penfolds Estate setting and urban vineyard views over a relaxed meal, be it a boozy brunch with mimosas, Bloody Mary's or sparkling wine, or over spicy chai lattes, with teas by Scullery and Rio coffee.
78 Penfold Road, Magill
There's a reason this city-edge cafe keeps winning awards. Named Best Cafe Dining in the City not once but TWICE, the onsite coffee roaster and Insta-grammable food to match will make your stay at the plant-filled eclectic space one to remember.
191 Wright Street, Adelaide
Nauti Buoy is set to become the latest brunch spot in the morning, before becoming a bar in the evenings. So you can get your poached eggs and your cocktails all in the one, bustling location.
The owners of Nauti Buoy are three best friends who have been in business together for a number of years. Harrison Raff, Dylan Auciello, and Danny Cooray own Loverboy, the popular Hindley Street nightclub, and also recently opened Studio Spring, a popular Pilates Studio in Norwood.
The seasonal menu is crafted using local produce, and the coffee will be brewed with SA beans.
1 Henley Beach Road, Henley.
No Adelaide brunch list is complete without mentioning Peter Rabbit. The owners of the CBD cafe have taken this site from quite literally dirt and rubble and turned it into something spectacularly unique within the city. You'll find lush green lawns and an abundance of foliage encompassing great quality coffee and a fresh local menu. And bunnies (of course)!
Corner of Hindley & Liverpool St, Adelaide
It's Adelaide's answer to Melbourne's Higher Ground.
Indulge in the highly popular 'Breakfast Dumplings', filled with bacon, egg, bathed in smoked ginger broth and topped with chilli oil and spring onions, or a mushroom crepe, filled with a medley of loca mushrooms, a spicy mayo, baba ganoush, and finished with a salsa verde and toasted macadamia nuts.
Other menu items include a super salad with quinoa, wild rice, crispy kale, spinach and topped with a lychee dressing, and a Hong Kong egg waffle, served with caramelised banana, honeycomb, chocolate, roasted walnuts and cream.
28a Hawker Street, Brompton
There is only one thing better than brunch — seriously, hear us out. Bottomless brunch. That's right. Endless amounts of perfectly poached eggs, crispy bacon, fluffy pancakes, smashes avo. Is your mouth watering? Ours is.
Sublime Cafe's menu features a range of both sweet and savoury items to satisfy your hunger, including the Big Breakfast Roll with bacon, fried egg, hash brown, American cheddar, house made aioli, and tomato chutney, and the Greek Yoghurt Pannacotta with toasted house made granola and pear nectar.
Oh. And did we mention popcorn halloumi? Because there's literally POPCORN HALLOUMI.
55 East Ave, Clarence Park
Port Adelaide's Banksia Tree Café is a crowd favourite not only with the locals but also within the wider Adelaide community, making a name for itself as a sustainable, affordable eatery with darn good food and even better service.
With a strong focus on being zero waste and being committed to sustainability, The Banksia Tree Café is no stranger to a rotational menu with the food items regularly changing along with the seasons. Priding themselves on always using the freshest, local produce, Fabian and his team are using this new challenge of food shortages and increased prices to come up with new exciting dishes for you to try.
147 St Vincent St, Port Adelaide
Filled with that op-shop vintage vibe, the menu is not extensive but can be moulded to suit everyone. Every dish is bursting with flavour. We love the Sweet Potato Hashbrowns with poached eggs or their unique French Toast which is served with apricot compote, vanilla cream cheese, pistachio crumble and raspberry coulis.
2 Egmont Tce, Hawthorn
A light and bright contemporary space located on bustling North-East Road, Yolk Cafe is winning fans with its trendy interior and vibrant food.
The interior of the cafe is modern with an industrial-edge surrounded by raw timber beams and naked concrete. The space is open to natural light, highlighting its pastiche layout.
42 North East Road, Walkerville
Generous serves of wholesome, on-trend brunch (or lunch), surrounded by greenery and earth-toned panelling, and sunlight (when the weather is good). How could it possibly get any better?
This dog-friendly, liquor-licensed café and bar is serving up all your brunch favourites. Dachshunds, pugs, Maltese … and then there's the menu. Recharge with the Salmon Poke or Nutrition Brekkie Bowl, or renew after a night out with a Haloumi Burger with avo and sweet corn salsa, fried egg and sriracha mayo.
136 Greenhill Rd, Unley
Want more news from Glam Adelaide?
• Follow us on Facebook
• Follow us on Twitter
• Follow us on Instagram
Get the latest news in your inbox
• Subscribe to our eNews