Rose Gold: everywhere you look at the moment you are met with these beautiful blush tones, whether it's homewares, fashion, iPhones or jewellery the colour is truly blowing up. Celebrities are wearing it on the red carpet, we're decorating our homes with it, and we're even wearing it on our fingers.
It's no surprise we have seen this trend continue on into our jewellery, but most surprisingly in men's wedding rings. Here, Ashton, Cassandra and Michael from Gerard McCabe Jewellers share their thoughts about the popularity of rose gold and why it is the number one choice for men in 2017.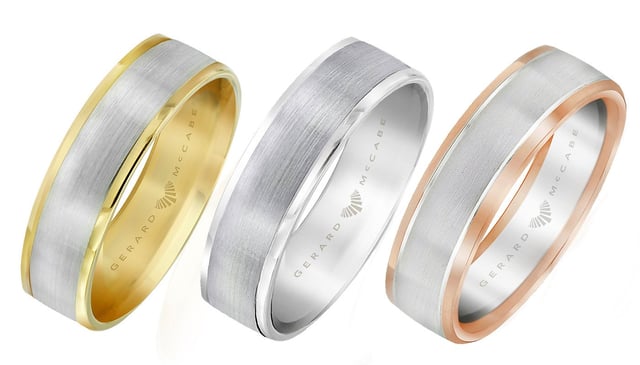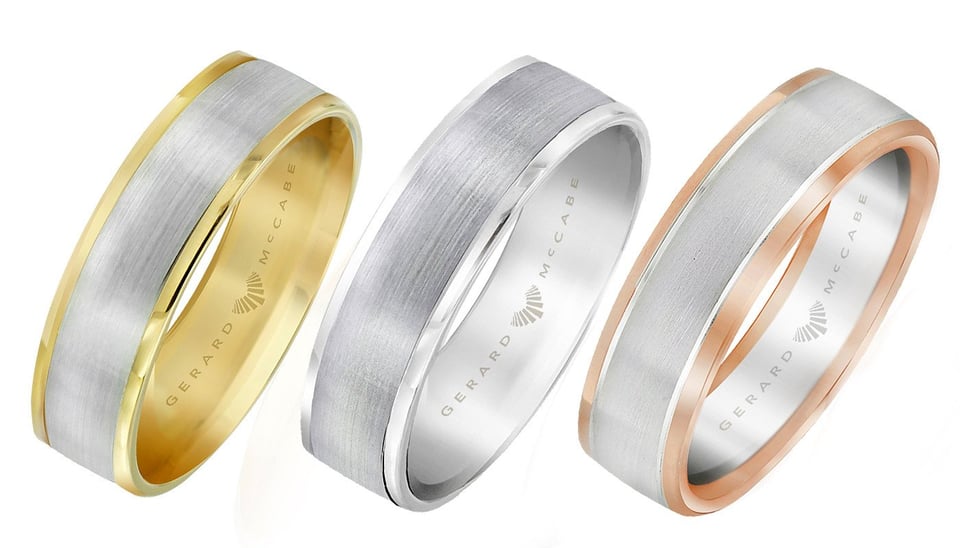 According to Ashton, Gerard McCabe have a really great rose gold colour available which she believes makes guys feel comfortable enough to step away from the traditional yellow gold and use rose instead.
Whether you're a man who wants something a little different, or a partner looking for something unique for your man, this is a great choice to go for that won't compromise the design.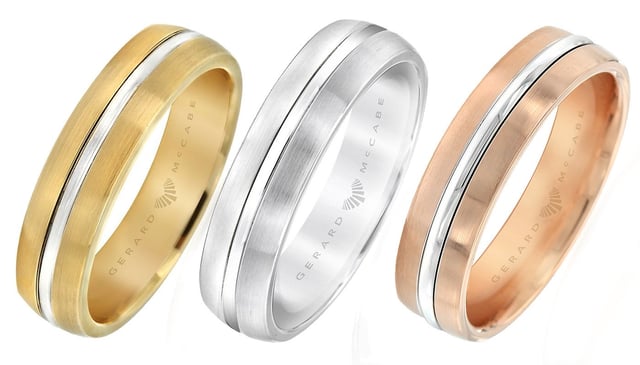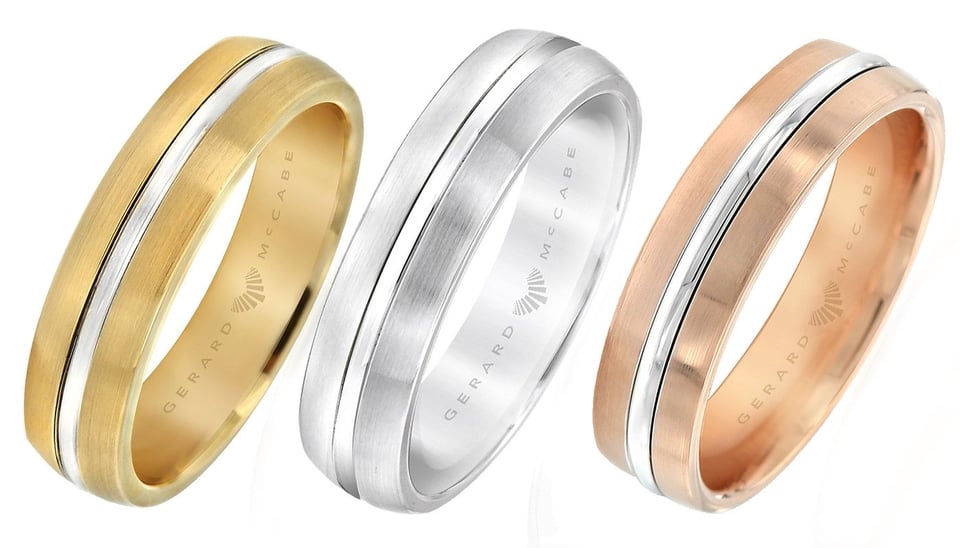 From Cassandra's perspective, it is simply reverting back to the romantic era of Victorian times. The Victorians were restrained and conservative in their social interactions and depended very much on jewellery to express their longing for adventure and exotic cultures.
Rose Gold was brought to prominence by Faberge, the great Russian jeweller to the Czar. He used it to express opulence as well as flamboyance. It was considered, by the English, to be extravagant and rare.
Men started indulging in watch chains and watches made of this material. In the 20's, Cartier then started using Rose Gold in their fabulous creations. As Cartier was a trend setter its popularity spread, and now the colour is seen everywhere.
Bachmann Wedding Ring
Rose Gold in men's wedding rings can be seen as a complement to the bride's/partner's wedding/engagement ring choices which are increasingly combinations of white and rose gold.
The other driver towards Rose Gold is in that quest for a point of difference that will make the wearer stand out from the crowd.  This can be achieved with a Rose or Rose White Gold combinations, while still retaining the more classic and timeless designs that men intuitively know will stand the test of time.
We are also noticing that men are becoming more fashionable (thank God). They're becoming more aware of what's popular and on trend generally in the fashion world, which then translates to them and their choices for their weddings.
Sometimes the choice of Rose Gold can be as simple as wanting to match their partner's wedding band and engagement ring – another symbol of love and the forever after bond.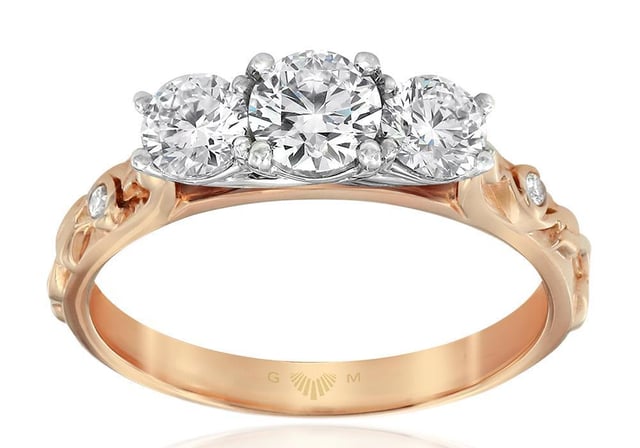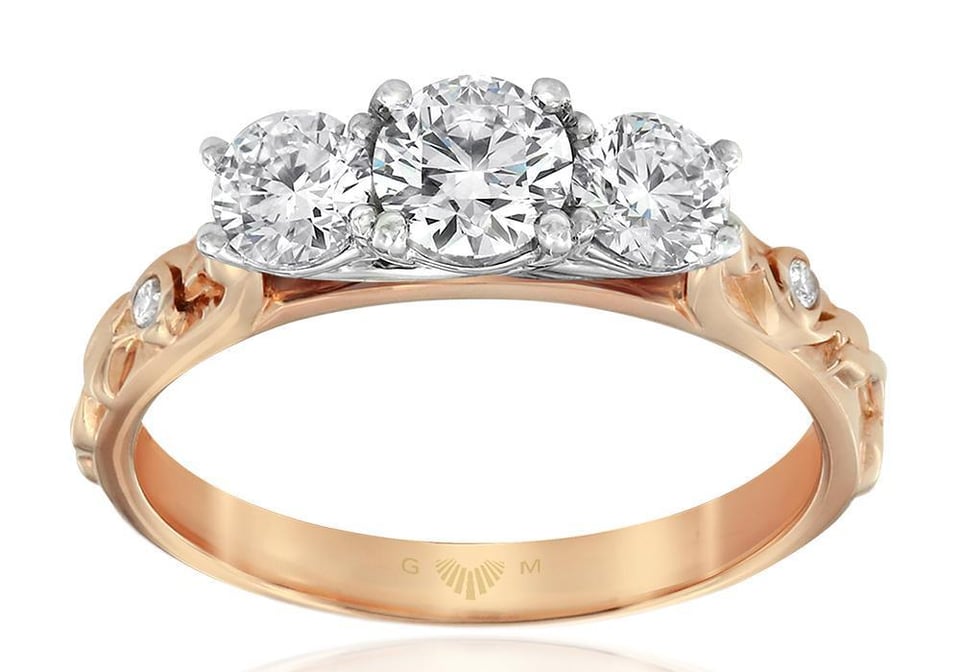 While white gold and platinum suits cooler skin tones and yellow gold suits warmer skin tones, Rose Gold is the true neutral as it's much more forgiving on most skin tones. This makes it an easier choice for most people. There's no need to always have tanned skin for your yellow gold jewellery, or never have a tan for your white gold.
Gerard McCabe have a large selection of men's wedding bands of any colour. If you'd like to discover more about their stunning Rose Gold wedding bands for men you can view our collection or pop in store and see what they have on offer.
Gerard McCabe Jewellers
Shop 2 Adelaide Arcade, Adelaide CBD
08 8232 1000
50 Rundle Mall
Rundle Mall Plaza, Adelaide CBD
08 8212 2000
[adrotate banner="159"]