The French exude that kind of effortless class that everyone else wishes we could imitate. Even their swearing is so much more elegant than our rather abrupt curses.
Event planners Sips and Giggles, in cooperation with La Buvette Drinkery, certainly seem to agree, and are hosting a very unique night of French tutoring for the culturally adventurous.
In what is sure to be a highly educational and amusing night, La Buvette are providing a two-hour interactive class with a fluent speaker and a drink of your choice – glass of sparkling, wine, beer or gin.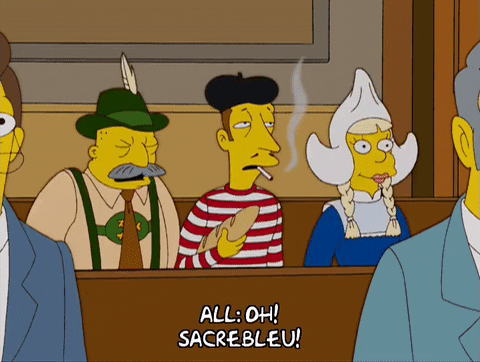 The next class will be held Saturday, June 15 (buy your tickets here!) from 8pm – 10pm.
And if you can't wait until then, we've collected a couple of our favourite French swears for you to practice before the class, so you can show off your Parisian cursing skills! Have a go…
"Nom de dieu!" (pronounced 'nom-duh-dew') = For God's Sake!/God Dammit!
"Putain!" (pronounced 'poo-tan') = The most versatile French swear. Can be used when seeing a friend you haven't seen for ages, or when you drop your croissant on the ground, or when you stub your toe—but use it only in select company. Limited to friends and those who maybe don't speak that great French.
"Merde!" (pronounced 'meh-urd') = A mild, generally humorous substitute for "sugar, honey, iced tea" (if you catch our drift).
We hope that was instructive! At the very least you'll have a little more luck than Joey…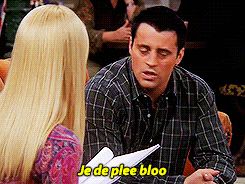 What: Putain de… French Cursing in Adelaide
Where: La Buvette Drinkery
When: 15 June, 8pm – 10pm
Tickets: $50 and available here
[adrotate banner="159"]